Introducing The Snappi
Finally, A Device Developed to Clean Salt and Dirt Residue from Metal Snaps!
Play Video to Learn more.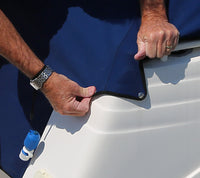 No More Struggling to Remove Canvas!
The Only Patented Tool to Clean and Lubricate Metal Snaps found on Boats, Rvs, and all Outdoor Equipment.
Maintaining Snaps on your Boat, Outdoor Equipment, and Camping Gear has always been Difficult, until Now! 
Necessity is the Mother of Invention
"I invented Snappi because I needed a tool that would end the frustration of stuck canvas snaps which often resulted in ripped boat canvas covers. I also wanted a tool that would not only clean the snap head but would lubricate it as well. Snappi quickly and easily does both!"
Chris Cunningham
Inventor of Snappi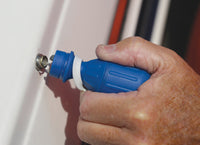 Save Money with No More Torn Canvas
• Enough Lubricant For Years of Stress-Free Canvas Use
• Abrasive Teeth Cleans Dirt & Residue from Snap Heads
• Wrist Lanyard to Keep Hands-Free
• Secure Cap to Protect Cleaning Heads
• It Floats!
Looking to buy Bulk or Wholesale?
Contact us directly
for product notifications or
to buy bulk or wholesale